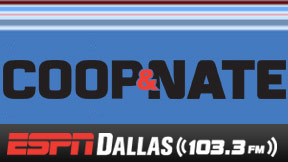 Last week I came across the Coop & Nate Show.  I was stuck at work and so I started flipping through the TuneIn Radio app on my phone.  I really wanted to catch some of my collegues on the BTR network, but it was too early in the day.  Instead, I got stuck with some ESPN radio garbage.
As I flipped through my options of ESPN shows, I deceided to listen to a show out of Texas.  The Coop & Nate Show seemed like a safe and logical choice.
Wow, was I wrong!
As I listened as I worked, I couldn't believe some of the garbage that I was hearing.  Really?  We are going to compare the Bill Belichick?  Really?  I am not a Patriots fan, but cheating is a whole lot different then intentionally trying to hurt someone for money.
"Bounty Gate" as they called it has not only brought the ugly out in the NFL, it has also brought out the ignorance of ESPN once again.
Listening to them complain and cry about how Bill Belichick was only supposed to be suspended for three games, only got $250,000, and the Patriots only lost one first round draft pick.  While the New Orleans Saints got fined $500,000, second round draft picks for the next two drafts, and Sean Payton is out for a year.
I am not saying that Sean Payton's punishment might not of been a little extreme.  I am saying that comparing the too is just simply stupid.  These idiots on The Coop and Nate Show was saying that what Bill Belichick was so much worst.  That what Belichick did was cheating and that it ruined the game.
Hello?!?!  First of all, the Patriots have proven year after year that they are just that good, that it probably didn't change the outcome of the games.  The Patriots have been good for at least a decade now.  So even though they might of been doing things to help their chances of winning, they were and still are the measuring stick of the AFC and didn't need to do it.
Next, what the Patriots was doing never put other players lifes, safety, or well-being in jeopardy.
The Saints, they did do all that.  Their actions did change the outcome.  I am sorry, but if you are intentionally taking out the other teams play makers, that changes the outcome.  The Saints were nobodies before the bounty scandal began and will probably be nobody again this year.  Then knowing that they were intentially causing injury, how could the host of The Coop and Nate Show even compare the two?  How could these two say that what the Patriots did was so much worst?  How could they say that the New Orleans Saints got screwed due to what happened to the Patriots?
I guess ESPN just hires anyone and lets anyone say what they feel like.  I am glad I never went down that road.  I would rather do this for myself and never make a lot of money and have my self-respect, then cash it all in for a check from ESPN!